ENDURO Sun 5 Jul 2020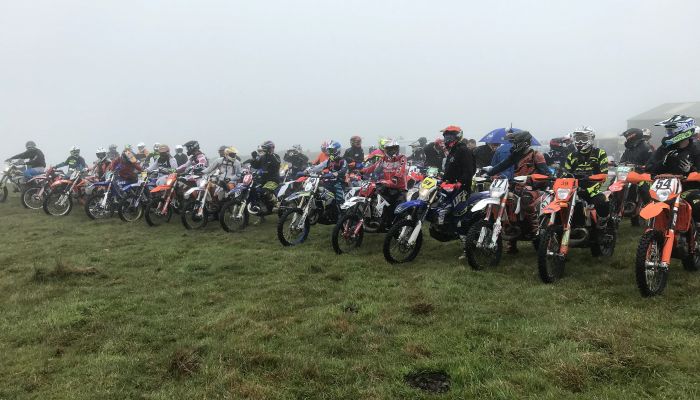 Endurogasm 2020 Results
A lot has changed in the world since SMCC ran the preceding enduro event back in February. Soon after countries around the globe were brought to a standstill by the Covid-19 pandemic and new phrases were added to our collective vocabulary.
The Isle of Man was not excluded from tragedy as we all stayed indoors and watched events unfold both far away and at home. Normality returned to Island much quicker than our neighbours and it became clear we would be able to run ACU events much earlier than the UK and with no restrictions on numbers and without distancing measures.
SMCC had the honour of running the first post-pandemic ACU motorcycle competition in the British Isles. The format was self-deciding the event needed to be fun, include as many local riders as possible and held on the club's own land, the 'Endurogasm' was the only possible candidate. 
Solo competitors, 2 Man pairs, Quad Solo and Quad pairs not forgetting C90 derived Flappers lined up in thick mist for what was one of the clubs most memorable events. The surrounding area was filled with cars and vans as much of the island turned out to see the action. Right from the start the crowd got what they wanted with 3 rows of riders let loose in quick succession and immediately bottlenecked into a very tight and uphill stony climb. Only the first few enduro stars got away and escaped the melee. Holeshot award winner was 2019 ISDE Gold Medallist Craig Norrey followed by the illustrious David Knight, on form Jack Collins, youngster Will Cawte and young at heart Mark Crellin. Once the carnage had subsided the area around the start fell quiet for some time as the field negotiated the first lap. The course was one of the best laid out on the land making great use of the area. Taped corners flowing from one gorse bush to the next including a 'snail' corner, log section, bog and a steep but straight forward climb. The opening lap took David Knight 11mins 4secs to complete which demonstrated the effort that had gone in to marking it out.
David Knight generally only wins when he rides locally and he stamped his authority on this event from lap 1 leading Craig Norrey over the line by 30 secs, followed by Tom Knight with Dad Juan Knight behind, Grant Thomson, Chris Madigan and Jack Collins. First Quad over the line to start lap 2 was Matt Thorpe/Ben Cox pair.
As the race progressed the 2 man pairs came in to swap riders and promoted Jack Collins to 3rd overall a position he held throughout the remainder of the race. Knight suffered a non-painful but deep gash to his elbow after slipping of the big KTM 500 on some slate, a rare mistake.
At the flag it was David Knight 13 laps from course builders Craig Norrey 12laps and Jack Collins 11laps ahead of Ryan Neild and Will Cawte who rode very well in his first adult enduro.
2 man class was eventually won by former club champions Ashley Kelly and Mark Turner from an impressive 15 year old Bobby Moyer partnered by Ollie Megson onboard a thirsty 125. Eric Herdman and Juan Knight took the final podium spot.
Quads were won by Kane and Michael Hall on board the Income Plus sponsored Yamaha from Ben Cox and Matt Thorpe who sneaked through just before the flag to draw level on laps at 10 but some 14mins back. 3rd was Jayson and Michael Kelly.
Flapper class was won by Sam Corlett who was 17th overall from Tom Dawson and pairing of Jo Coulson and Rory Howell.
Thanks go to Brenda Crellin and Cat Thomson for sorting out the all the late entries and class swapping at sign on. Hogg Rescue's Jenni and Neil Hazell, travelling marshals Andrew Sidebottom and Harry Corrin. 
SMCC plans to return to Carnagrie on Wednesday 15th July for another go on a similar but hopefully drier course.
Adult Race Result
https://my.raceresult.com/154255/results?lang=en
Youth Race Result
https://my.raceresult.com/151480/results?lang=en#0_A03F9E
Edit1, Rider 9 Leo McVicar's 6min lap removed
< Back