ENDURO Tue 25 Jun 2019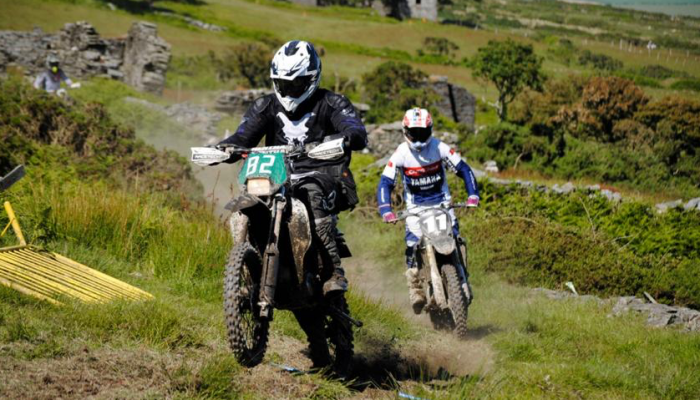 Endurogasm 2019 Results
Sunshine and sunburn at Carnagrie for the clubs annual, Enduro, Trial and BBQ.
The event feature 3 competitions a 1 hour Youth enduro, 3hr Adult enduro with separate Solo, 2 Man pairs class and Flapper class for modified Honda C90s. All followed by an evening fun trial and BBQ.
Adult Enduro
Max Igham (pictured), Craig Norrey, Jed Etchells and Thomas Knight were separated by a few seconds for the first 6 laps before Etchells retired having rear brake issues on his Sherco. Tom Knight swapped with partner Darren Fowden in the 2 Man class and dropped out of contention for the overall win.
Solo class top 3 at the finish were Max Igham, Craig Norrey & Jordon Corkill
2 Man pairs class winners Tom Knight and Darren Fowden lead from the off with holeshotting Nick Oxley and Tom Lee in second place 1 lap down and Josh Corlett with partner Adam Rutter standing in for injured Grant Thomson in 3rd place only 4 mins back after 2 1/2 hours of riding. 
Flapper class was won by Chuck Bregazzi (pictured) from Sam Corlett complete with denim dungarees and very red sunburn. The final step on the flapper podium saw some controversy as Tom Dawson started the event on his own c90 but after it expired with a suspected dropped valve. Tweeks sneakily swapped his timing transponder on to his own Beta 300. Joe Coulson therefore slotted into 3rd place once Dawson moved class.
Youth Enduro
First place in the 1 hour youth enduro was Jack Keenan followed by Liam Smith both riding 85 big wheel machines.  Third overall and 1st in class was Josh Blackley on his 65 machine. The Youth enduro was run on a shortened course not still not without some challenges for the small yet machines and riders with their harsh power delivery.
Results
Adult Enduro Class lap results
Youth Enduro Class lap results
Thanks go to  Phil Hogg Rescue Ambulance, Phil Kennaugh as well as all helpers especially Cat Thomson, Claire and Sarah for the BBQ, Max and Jamie for setting out the course. 
At present the plan is to have a evening repeat on a similar course on Wednesday 3rd July kicking off with Youth 1 hr event at 6pm and an Adult enduro from 7pm more info to follow.
< Back