ENDURO Sun 2 Feb 2020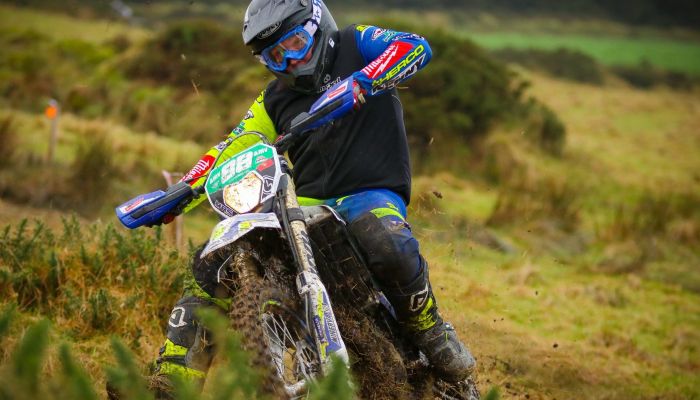 Dalby Enduro Centre Rnd 1 Results
The 2020 Isle of Man ACU Centre Enduro Championship commenced at Carnagrie on Sunday 2nd Feb. Organised by Southern MCC the event featured 2 special tests at Cringle plantation and around the clubs land at Carnagrie. 
Heavy overnight rain caused concern until the skys cleared just in time for a slightly later start of 10:30. Ground conditions were exceptionally damp to say the least. With Carnagrie's heavy black mud not giving up much grip especially on the sighting lap. The steeper sections in Cringle also proved a challenge for eveyone.
Expert 
Danny McCanney took overall victory onboard his new for 2020 Honda 450 fastest on every test his margin of victory was just over 3 minutes from an impressive and mature riding Thomas Knight. Initially 2nd Chris Madigan had an off on the Carnagrie test and had to straighten the forks on his Beta 300 before losing time on the final run through Cringle. Grant Thomson was fourth 40 seconds a further back in fourth ahead of ISDE gold medalist Craig Norrey onboard a bitzer KTM.
Unfortunately Expert rider Jordan Corkill had a nasty fall at the old quarry on Carnagrie and this curtailed proceedings for the day as he was moved off the land by coastguard. The club would like to thank Jenny and Neil Hazell from Hogg Rescue, the Nobles crew and Coastguard for their skill and professionalism. Expert rider Ben Hardy was first on the scene and raised the alarm. Unfortunately whilst opening a gate for the ambulance crew his bike blew over and snapped his clutch lever putting him out of the competiton. As they say 'no good deed goes unpunished'. 
Clubman
Victory was taken by former TT competitor and accomplished trials rider Kieran Hankin fastest from start to finish his margin over Peter Kermeen was over 2mins and with a Peter a healthy distance clear of a Aaron Watson third followed closely by Josh Corlett and Marcus Simpson covered by less than 30seconds.
Vets
Russell Millward took victory from Robert Quayle with some notable absences from the class including Gary Flowers who entered and inspected the course at Cringle but no-showed on the day. 
Sportsman
Kyle Collister took victory from enduro new boy James Quayle and TT/MGP regular Si Fulton who managed to cart wheel his KTM over the slab step at Carnagrie finish.Thanks go to Hogg and all the emergency services, Phil & Brenda Kennaugh, DEFA and Cat Thomson as well all who assisted on the day.
*Provisional Dalby Enduro Centre Round 1 
*GIven the difficulties on the day time penalties were dropped.
Photo Paul Lowey PLPics 
< Back