ENDURO Sun 19 Feb 2023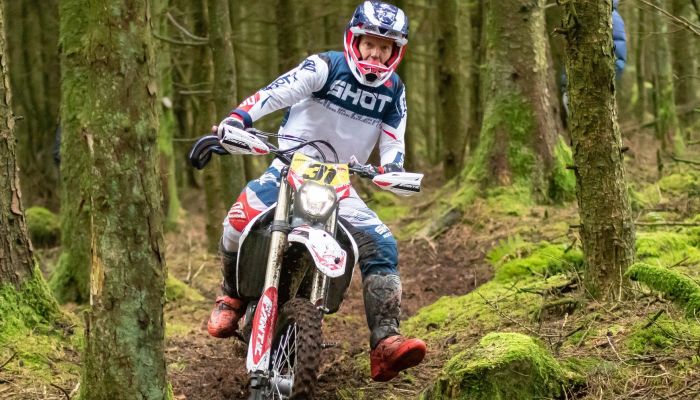 Dalby Enduro 2023 Results
The first round of the Isle of Man Centre Enduro Championship of the year kicked off on a misty Sunday morning at Carnagrie. The event attracted a good entry of 48 riders. Eager to test their skills and compete against each other between the trees of Arrasey and Cringle plantations.
The event was organised by Southern MCC's Craig Norrey and offered a challenging course for riders to tackle. The atmosphere was electric as riders and spectators alike braved the cold and misty weather to witness the excitement and drama of the first Enduro race of the year.
David Knight triumphed once again at the Isle of Man Enduro Race, beating out Danny McCanney by an impressive 36 seconds. 
Despite the tough tests, Knight remained focused and composed throughout the race, using his experience and technical abilities to gain an edge over his competitors. McCanney, for his part, put up a valiant effort and kept the pressure on Knight, but ultimately couldn't close the gap and had to settle for second place. 
Meanwhile, Craig Norrey put in a strong performance to finish in third place, just over 3 minutes behind Danny. The race was a true display of the skill and determination of these talented riders, and the Isle of Man Enduro Race remains one of the most challenging and exciting events in the sport of enduro racing. Mark Turner was only 20 secs adrift of Norrey in 4th.
Clubman class was won by Jason Turner 20 secs ahead of 2021 Clubman champion Aaron Watson and former champion Alan Heath taking 3rd place on the podium. Peter Beaumont was 14 secs down in 4th.
Veteran class was won by Jason and Mark's father Mike Turner from visiting rider Anthony Crowe with Nigel Beaumont cruising in 3rd place whilst running in a brand new Yamaha 250.
Sportsman was the biggest class with 23 competitors which was fantastic to see Billy Cubbon took victory on a YZ250 2 stroke ahead of Steven Asbridge in his first event, 3rd place went to Ryan Davis. Impressive Saskia Kelly (nee Baxter) 4 secs behind. Saskia was the fastest of 4 ladies who all made it to the finish. Jacalyn Riding scored points in 11th and Alex Pressly and Shantelle Thorpe were 16th and 17th. 
Massive thanks to those that assisted with the planning and running of the event. 
Provisional results from Dalby Enduro 2023 
Test 1 dropped due to initial tech issue with timing equipment. 
< Back